Lake Life
Meet "Mingo" the flamingo…
If you're having trouble realizing the scale of the monster we created, note the 6 foot long paddles or the little bathtub rubber ducky on the far side of the right paddle.  He's a little droopy, but not for lack of effort. It took 3 compressors, 2 hours, a truck, and 12 air nozzles to blow up our new friend.
Justin says that he wants the caption for this picture to be "Why Justin's truck needs a Dukes of Hazard horn."
To our credit, we didn't go out and buy this nonsense, it actually came with the house. When the old owners were moving out, they left a folded up pink inflatable in the garage. We figured that it was just a typical float until we attempted to blow it up, and then were really happy that we didn't try to blow it up in the living room.
So we finally got Mingo, Fredwardo, Fredwardo 2.0, Cornelious (that's the rainbow unicorn), a donut, a wow tube, and a 3rd flamingo blown up and in the water. The girls have a gift for naming things.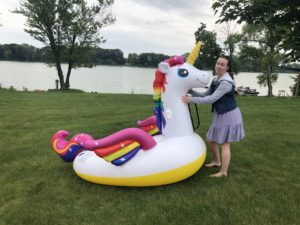 For the record, no trucks got stuck in the mud or the grass or the lake this time.  It was admittedly a little out of character for us, but we actually thought about what could go wrong and went to Tractor Supply to buy a boat anchor for our new friend.
This was the beginning of our summer madness which also includes canoeing, kayaking, jet skis, having Josephine almost lose an eye while knee boarding, BBQing, Caustic Bingo at Rock N Wool Winery, the best cider we've ever had called HOTD (Hair of the Dog, also from Rock N Wool Winery), and a floating bonfire.  If you're worried, Josephine's eyes are just fine.  #drama.
The floating bonfire lake party was the brain child of Bob and Wendy (#Bwendy).  We had a sad, old copper fire pit that we sort of abandoned on our beach after Justin and Dylan built Dad a spectacular new bonfire pit that was worthy of his pyromaniacal tendencies.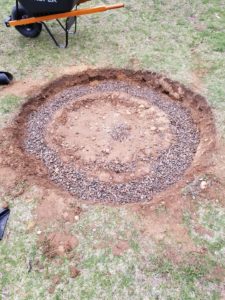 Wendy said, "Hey, we should float your old fire pit out to the middle of the lake and invite everyone out for a party on 4th of July."  We all said, "Ya, what a fun idea" and proceeded to do nothing about making that happen.  In our defense, we'd been distracted getting trucks stuck in the mud, doing all of mom's gardening chores, building and rescuing relocated sheds, learning how to keep chicks alive, and blowing up an unreasonable amount of inflatables for the girls.  But, none of that stopped Bob and Wendy.  They built a floating platform and kayaked it over and secured our sad old fire pit on it and gave it a grand new purpose.  And, on the 4th of July we floated that thing out into the middle of the lake, anchored it, and lit it on fire (challenging dad's fire making skills by making him do it from a kayak surrounded by water).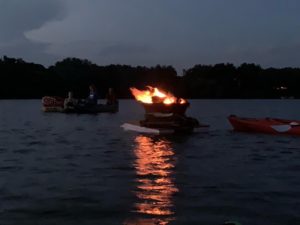 A bunch of neighbors came out and we had beer, cider, traditional s'mores, and "adult" s'mores (another Wendy invention – a toasted marshmallow dropped in a cup of Baileys), champagne, wine, and scotch.  You can imagine that we all felt a bit "delicate" the next morning.  We also learned that champagne out of sippy cups is kind of weird and that dad shouldn't have a wine glass in his kayak (which was mom's idea, not his, but she bought him stemless acrylic wine glasses for the kayaks when her hangover wore off).  We got eaten alive by mosquitos, but it was worth it.  One of our neighbors set off a bunch of fireworks from their beach and we all clapped and cheered from the middle of the lake.  It was a lot of fun!
All this lake life is a bit exhausting though.  I think we wore out Hannah and Josephine…