Earning My Pumpkin Patch
I've always wanted a pumpkin patch – a field of pumpkins, not the Girl Scout Badge.
I think that pumpkins are relatively easy to grow.  But, I feel like I should know what to do with a pumpkin, other than carve it into a jack-o-lantern, before I go growing a couple dozen to a couple hundred of them.  So, I decided to turn my uncarved Halloween pumpkins into food.  I chose a nice medium/large pumpkin and, armed with some cook books and Google and YouTube, I embarked on a new kitchen adventure.
The first step to cooking anything with pumpkin is to get it into manageable cubes.  I decided to use the baking method rather than attempting to carve up a raw pumpkin.  I cut the top off like you would when you're carving a jack-o-lantern.  Then, I flipped it over and cut the bottom out similarly.  Then, I cut it in half and scooped out all the seeds and stringy guts with a spoon.  Then, I placed it face down on a cookie sheet and baked at 350 for about 45 minutes.  I was worried about over baking it so I took it out then.
Once it cools, you're supposed to be able to just peel the skin off.  In retrospect, I probably should have left it in for about 60 minutes.  I had to cut the skin off my pumpkins because it wasn't quite done enough for the simple peeling method.  Then you can very easily cube it up to use in whatever recipe you like.  Ummm… now, I had to find some pumpkin recipes.  I decided to make Pumpkin Puree to start with to use for my Thanksgiving pumpkin pies.  It was super easy.  I just put the cubed pumpkin in the blender with a little bit of water and blended it until smooth.  I made 3 mason jars of pumpkin puree.
As it turns out, that's about enough pumpkin puree for about 5-6 pumpkin pies.  What I learned the hard way is that most recipes for pumpkin pie are optimized for canned pumpkin and sweetened condensed milk.  I ruined 3 pies before I found a wonderful recipe for homemade pumpkin puree that made delicious pumpkin pies.  I forgot to take pictures of them in all the chaos of pumpkins, pie, and Thanksgiving.  I'll take pictures and post a recipe for those next time I make up pumpkin pies.
For today, the thing I am most proud of is my Pumpkin Apple Soup.
2-4 T butter
1 onion
4-6 C pumpkin, cubed
4-6 apples, chopped
4 C chicken broth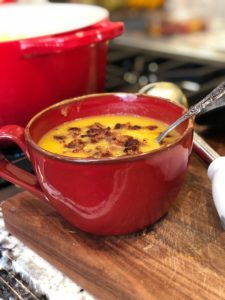 2 T tarragon
1 C cream (optional)
Sauté onion, pumpkin, and apples in butter 5-10 minutes until pumpkin and apples are soft.  Add salt and pepper to taste.  Add tarragon and chicken broth.  Bring to a boil.  Reduce heat and simmer 30 minutes.  Remove from heat.  Blend with an immersion blender to desired consistency.  Gently stir in cream for a richer soup.  Garnish with bacon crumbles.
So very yummy!  Enjoy!